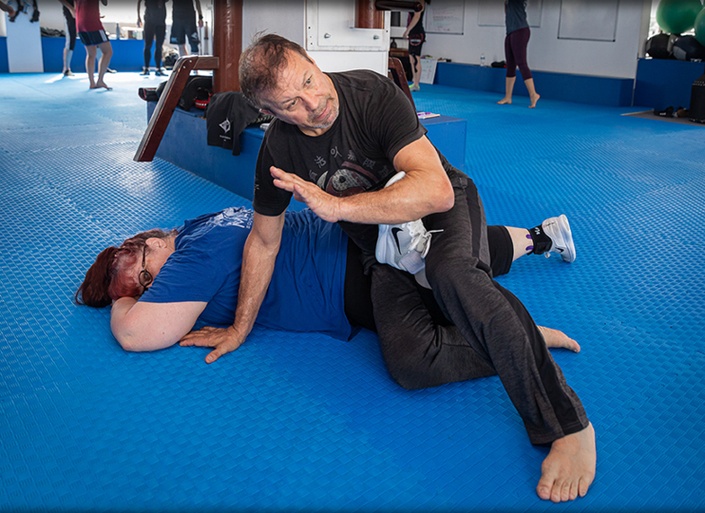 Silat Intermediate Course
Learn Maphilindo Silat
Maphilindo Silat is a compilation of Malaysian, Filipino, and Indonesian martial arts brought to life by Guro Dan Inosanto. Ron Balicki began his training with Dan Inosanto in 1982.
Through Dan Inosanto, Ron was introduced to Indonesian systems such as: Bersilat, Kuntao Silat, Pekiti Tirsia, Bukti Negara, Filipino Kali, Pentchak Silat, Suntokan, Pag Kali Kali, Sikaron, Panantukan, Mande Muda, Serak, Kari Silat, Buno, Pukalon Penjak Silat, and Penchak Silat.

Instructors who influenced Guro Dan Inosanto's Maphilindo Silat were Pendekar Herman Suwanda, Guro Rita Suwanda, Pendekar Eddie Mustapha, Pendekar Surada "Eddie" Jafari, Pendekar Paul De Thouras, Maha Guro Victor De Thouras, Pendekar John DeJong, Tuhan Guro Leo Gaje Jr., and Guro lucky Lucay Lucay
Ron Balicki received personal instruction from Guro Dan Inosanto, Larry Lindenmann, Pendekar Herman Suwanda, Guro Rita Suwanda, Pendekar Akiat, Pendekar Paul De Thouras, Maha Guro Victor De Thouras, Guro Ted Lucay Lucay.

The Beginner Course, $69, Intermediate Course, $79, Advanced Course, $89, are far denser than the previous Silat Beginner Course. They can all be purchased individually, or you may take advantage of our Silat Bundle offer at $199 and save $38!

All three courses will drop into your membership this May and testing will begin in the near future for those wanting to advance their rank.

For the month of April, MARS Online Training will start an Early Bird Pre-Registration for our Silat Course Bundle at a discount! Anyone that registers during the month of April will receive free access to Ron Balicki's two-hour Virtual Silat Master Class. This interactive Master Class will be hosted Saturday, May 14th at 6AM (PST), and the recording will be made available afterward for all that in April.

Take advantage of our Early Bird Pre-Registration for all three Silat Courses and receive the two-hour interactive class for only $149, an $88 savings.

Purchase this course individually, or visit https://marsonline.ronbalicki.com/purchase?product_id=3913265 to save with the Silat Bundle Early Bird Pre-Registration! Do it in the month of April with Coupon Code: "SILAT50" today and save!

Your Instructor
Course Curriculum
Intermediate 1 Syllabus
Available in days
days after you enroll
Intermediate 1 Footwork
Available in days
days after you enroll